. . : : STORY : : . .
Chapter 1
How Heroes are Made
Connor O'Neil was a orphaned teenager who happened to get very lucky.
One day, on his way to school, he was caught in the middle of a gangfight.
Just when a tough looking gang member was about to get him, he fell into a dark room.

The Tough Gangbanger Looming Over Connor
Suddenly there was an explosion outside. Exhausted, Connor surveyed his surroundings, he was in a futuristic looking lab. As he wandered around, a short old man in a lab suit called out,
-"Vhat are you doing?" The man approached Connor and looked him up and down, "You vill do vell," said the old man.
He took Connor into a huge white room, with a costume in the middle,
-"Try on ze costume," said the man. Not sure what to think Connor decided to do what the man said. As he put on the mask to the suit, a heads-up display appeared, "Vell, vhat do you think?" said the man.

The Heads Up Display On the Visor
-"It's cool, I guess," Connor replied. Then suddenly out of nowhere, the professor was knocked backwards by a yellow beam of light. Connor turned around, but saw nothing. He turned back around, and the man was standing back up and looking at Connor in astonishment,
-"Very veird, the radiation from the explosion must have given you, how you say, 'mutant' powers." The man than introduced himself as Professor Quark and proceeded to explain, the area around his lab was an old nuclear waste center, still filled with radiation, and that the explosion must have come in under the door and giving him these powers, he also explained the many powers of the suit, including flight, a small force field, and enhancement to strength. All the while, Connor was wondering, 'if the radiation had this effect on me, what did it do to the gang members outside...
Chapter 2
How to Survive a Wasteland
After taking off the suit, Connor decided he should leave.
-"Well, I'd best be heading to school," said Connor.
-"Vhat about the suit," replied Professor Quark.
-"Uh, sure," said Connor and he took the suit and shoved it into his backpack.
As Connor walked out of the lab, he noticed his shirt was stained and his face was bleeding.
'I'll clean myself off later," thought Connor. He carefully opened the door and was astonished to find how bad the explosion was.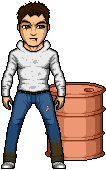 Connor Surveys His Surroundings After the Explosion
After looking around for a little bit, he heard sirens in the background.
-"Crap, I better get out of here," Connor said to himself.
But before he could take another step, a black HAZMAT van pulled up and five men jumped out in yellow suits.
Connor quickly hid behind a metal container as the men filed past.
All of a sudden, a metal crossbeam collapsed burying the men in a pile of rubble.
Astonished, Connor reached into his backpack and grabbed the suit.
-"Well, I guess it's time to give this suit a try," he said as he put on the mask.